About Us
Welcome to Violet Oon Singapore, a highly-acclaimed group of restaurants and creator of Asian gourmet delights that are rooted in Nyonya and Singapore cuisine.
Our dishes represent Singapore's rich history at the crossroads of the world. At Violet Oon Singapore, we feature a myriad of flavours inspired by our Nyonya, Chinese, Indian and Malay kitchens.
Your experience with us will be an immersive dive into the rich heritage of many cultures. With us, you will experience the comfort of traditional favourites redefined by using the finest quality ingredients. The confluence of simplicity and luxury.
Everything we put our hand to - from our in-restaurant dining experience to our catered events - reflects our passion for quality food, presented beautifully with sophisticated service.
We are the perfect venue for a reuniting with family and friends, for showcasing Singapore to your overseas friends or for corporates to create a lasting impact on their guests.
We are committed to offering the best dining experience where each of our restaurants have a different concept and something new to offer, surprising and delighting our guests every time!
Our Beginning
Violet Oon Singapore was created in 2014 when luxury and lifestyle brand visionary Manoj M Murjani, Chairman of Group MMM was looking to create his next Singapore brand. His meeting with Singapore culinary icon, Violet Oon saw a meeting of the minds. Manoj was looking for an authority in Nyonya and Singapore cuisine and Violet and her family were looking for someone to take her food beyond the successful restaurant and food merchandise range that they launched two years before. Manoj and Violet's family discovered they shared the vision of bringing the best of Singapore cuisine to the world and together they launched a dynamic partnership.
The journey began with the creation of the Violet Oon Singapore brand. Its menu was conceptualised to appeal to sophisticated diners. Its restaurant design and concept were created to showcase the creativity and flair of Asian and Nyonya design and taste. Exemplary care and detail were also given to delivering the perfect service making every interaction with guests memorable.
In 2014, they launched their first restaurant – Violet Oon Singapore at Bukit Timah. This was formerly home of the restaurant owned by Violet and her children, Su Lyn Tay and Yiming Tay.
A year later, in November 2015, Violet Oon Singapore expanded to launch National Kitchen by Violet Oon Singapore at the National Gallery of Singapore. The restaurant opened to much critical acclaim at the end of 2015 and in 2016, won the award for Best New Restaurant (Asian) at the Peak G Awards.
In February 2017, they went on to open Violet Oon Satay Bar & Grill in the iconic Clarke Quay nightlife enclave. Violet Oon Satay Bar & Grill was named one of two Best Restaurants in Singapore that opened in 2017 by Travel and Leisure, South East Asian edition. The Sunday Times of Singapore named the Pork Satay at the Violet Oon Satay Bar & Grill as one of the 3 best dishes of 2017 and the Daging Panggang Sambal Hijau at the Satay Bar & Grill was named as one of the best 8 steaks of Singapore by respected food critic Wong Ah Yoke.
Violet Oon Singapore at ION Orchard – the team's fourth restaurant – opened in late 2018 with much anticipation and has been featured regularly in the media.
Success continues and Violet Oon Singapore at Jewel opened in April 2019.
Meet our

Brand Visionary

, Manoj M Murjani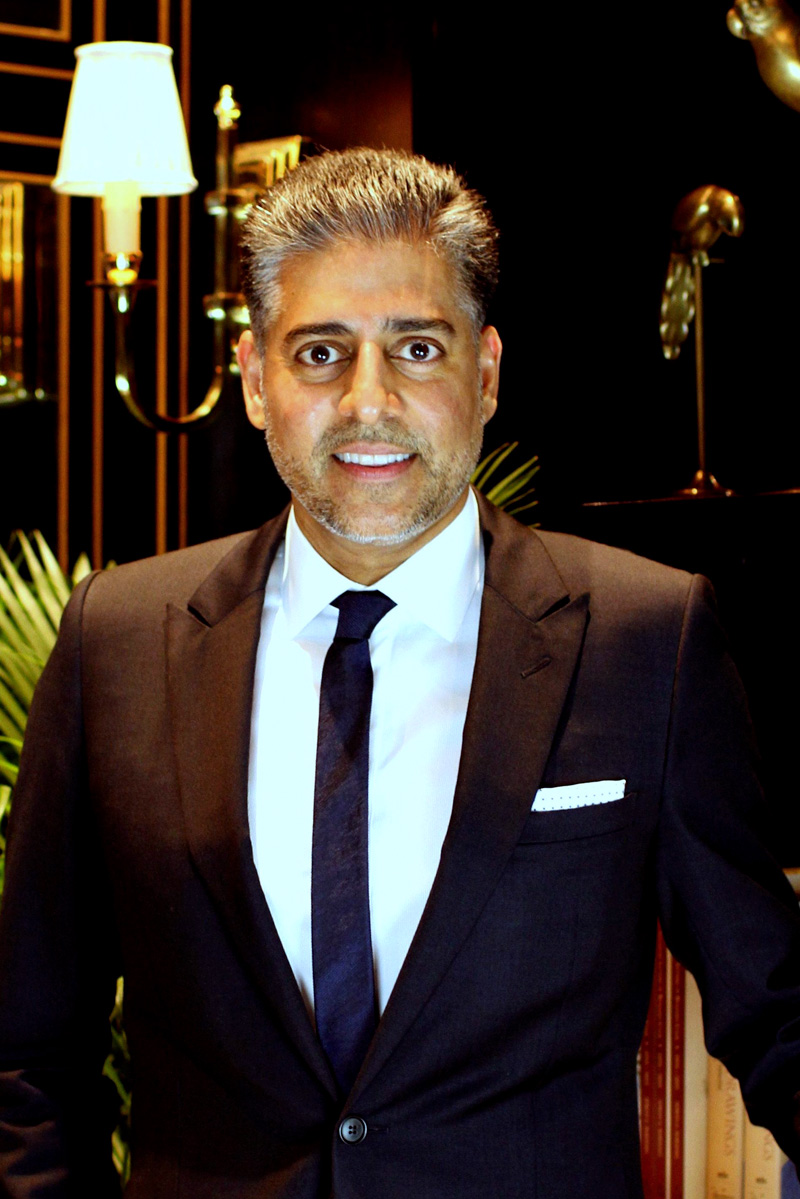 Manoj M Murjani is our brand visionary. He is Chairman & CEO and Co-Creator of Violet Oon Singapore.
Manoj's creative genius was discovered at the tender age of 11. Born to a family of entrepreneurs, Manoj was surrounded by people who dreamed big and were leaders in their fields. Home was host to creatives including Andy Warhol, MF Hussein, Michael Jackson, Amitabh Bachchan, Estee Lauder and Ralph Lauren; spiritual leaders including Mother Theresa; as well as business leaders such as Deepak Chopra, Malcom Forbes and Mohammed Al Fayed.
Home was where global ideas and movements were born, and brands created. The Murjani family had its roots deep in luxury and is responsible for creating some of the top international fashion icons including Gloria Vanderbilt and Tommy Hilfiger.
Manoj established Group MMM in 2013 as an independent expression of his individual creative genius and is focused on delivering the finest, most luxurious lifestyle brands in the world, from fine-dining, to cutting-edge dessert, to coffee, chocolates and tea. Violet Oon Singapore and Janice Wong Singapore are among the Singapore brands that Manoj has created under Group MMM.
Apart from Group MMM, Manoj is also Founder and Chairman of The Wellness Group (TWG) Singapore. Under TWG, he co-founded its subsidiary, TWG Tea, and served as Chairman & CEO of the company from 2007 to 2012. During his tenure, TWG Tea grew from a local tea salon in Singapore to a global multi-million-dollar business with 800 different tea varieties from every tea producing country, making it one of the fastest growing luxury tea brands in the world.
Manoj is also sole shareholder of Great Taste Asia and Director of Taste Distribution in the UK.
Manoj aspires to create magic for the culinary world as Walt Disney did for the world of children's imagination!
Meet our

Culinary Curator & Chef

, Violet Oon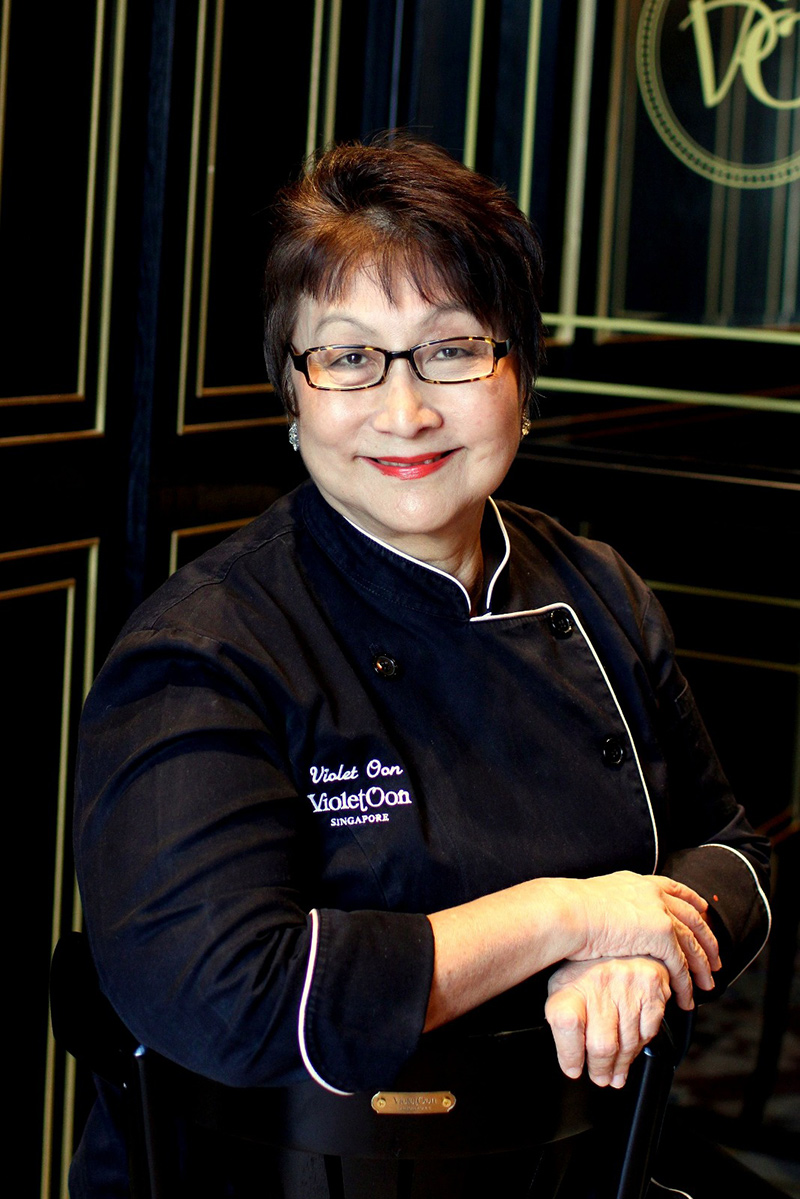 Co-creator of Violet Oon Singapore, Violet's life mission is to curate, collate and celebrate Singapore's food. Born a Singapore Nyonya in 1949, Violet Oon is the grande dame of Singaporean cooking and is widely considered to be an authority on Asian cuisine, specialising in Nyonya food. Her reputation as a chef and food connoisseur spans the international arena and she often represents Singapore as a food ambassador abroad.
She learnt to cook in earnest at the age of 16, making great efforts to master the intricacies of Nyonya cooking from her aunts and grandaunts. Later on, as a professional food critic from the mid 1970s she met some of Singapore's culinary treasures, from local chefs to home cooks to hawkers - who welcomed her into their kitchens. She has spent over 50 years honing her culinary skills and craft in the cooking of Singapore. Violet's career began in journalism in 1971 as an Arts and Music critic and then as the food critic for the Singapore newspaper the New Nation. She was later the food critic for the Sunday Times. Driven by her passion for sharing good food, Violet started her own culinary magazine called The Food Paper in 1987. Violet has shared her culinary experiences and cooking skills with TV audiences in programmes filmed and aired by the BBC, CNN, The Food Network and also by Singapore's Channel 5, where she had her own cooking programme called What's Cooking in the 1980s.
In the 1990s, Violet opened her food outlet under her own name in Takashimaya as well as a restaurant in Bukit Pasoh Road, and launched her Curry Powder collection, which was exported to Japan. For the Raffles Hotel re-launch in 1991, Violet was commissioned by the hotel to create her curry powders and a range of cookies for their shop. Her children, Su-Lyn Tay and Yiming Tay were passionately inspired to share Violet's heritage of Singapore cooking with a wider audience and in 2012, they joined forces to open Violet Oon's Kitchen in Bukit Timah. The restaurant garnered critical acclaim from its inception with the Sunday Times of Singapore on 29 July 2012 featuring a preview of the restaurant review by Wong Ah Yoke with the headline "COMEBACK QUEEN - Super Ayam Buah Keluak at Violet Oon's new place". In the New York Times review on 18 March 2013, Justin Bergman wrote, "Before Joel Robuchon, Guy Savoy and Daniel Boulud came to Singapore, the country had its own homegrown celebrity chef - Violet Oon, sometimes referred to as the Julia Child of Singapore."
Violet was appointed Chef de Mission, leading Singapore's team of chefs at the Worlds of Flavors Conference and Festival (2004, 2007 & 2009), held by the Culinary Institute of America. She was appointed Food Consultant for the IMF World Bank Meetings in 2006. She has written three cookbooks: Peranakan Cooking, Violet Oon Cooks and A Singapore Family Cookbook and in 2016 was inducted into the Singapore Women's Hall of Fame by the Singapore Council of Women's Organisations as well as lauded by Singapore Tatler with the Culture Award in 2016. In 2018, Violet was conferred two Lifetime Achievement Awards for her work in food in Singapore – by the World Gourmet Summit and by the Asian Masters organised by The Straits Times and Lianhe Zaobao.
Meet our

Creative Director

, Su-Lyn Tay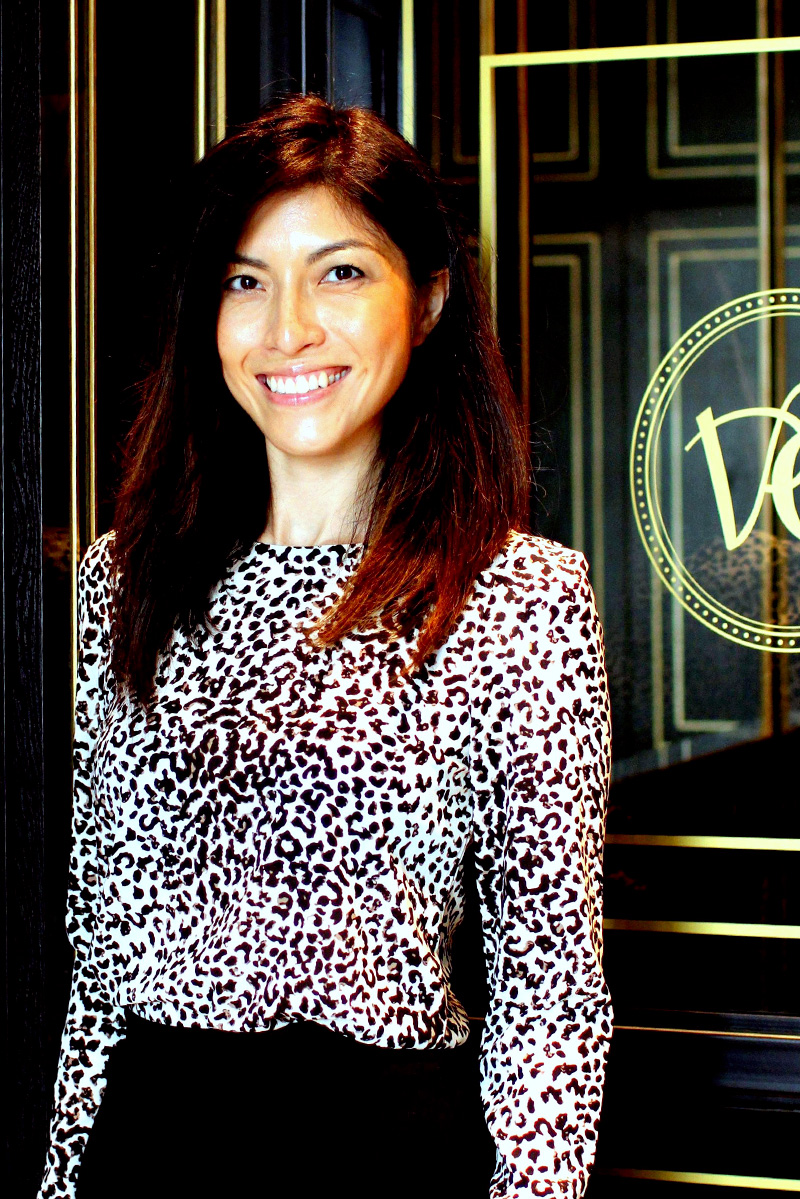 Su-Lyn is responsible for implementing the brand, restaurant and merchandise design of Violet Oon Singapore. She works closely with Manoj M Murjani for design concept and direction and then translates this into flawless and consistent execution of all elements of design for the brand.
Su-Lyn's early years in the fashion industry gave her a strong foundation for her current role at Violet Oon Singapore. She was Co-Founder and designer of international fashion label T-Bags Los Angeles from 1998 to 2012. T-Bags was sold in over 20 countries and carried in leading retailers such as Barneys, Saks Fifth Avenue, Neiman Marcus, Harvey Nichols, Lane Crawford, and on-line luxury retailer Net-a-Porter. The celebrity favourite label was featured in the iconic movie Sex and the City.
Meet our

Head of Operations

, Yiming Tay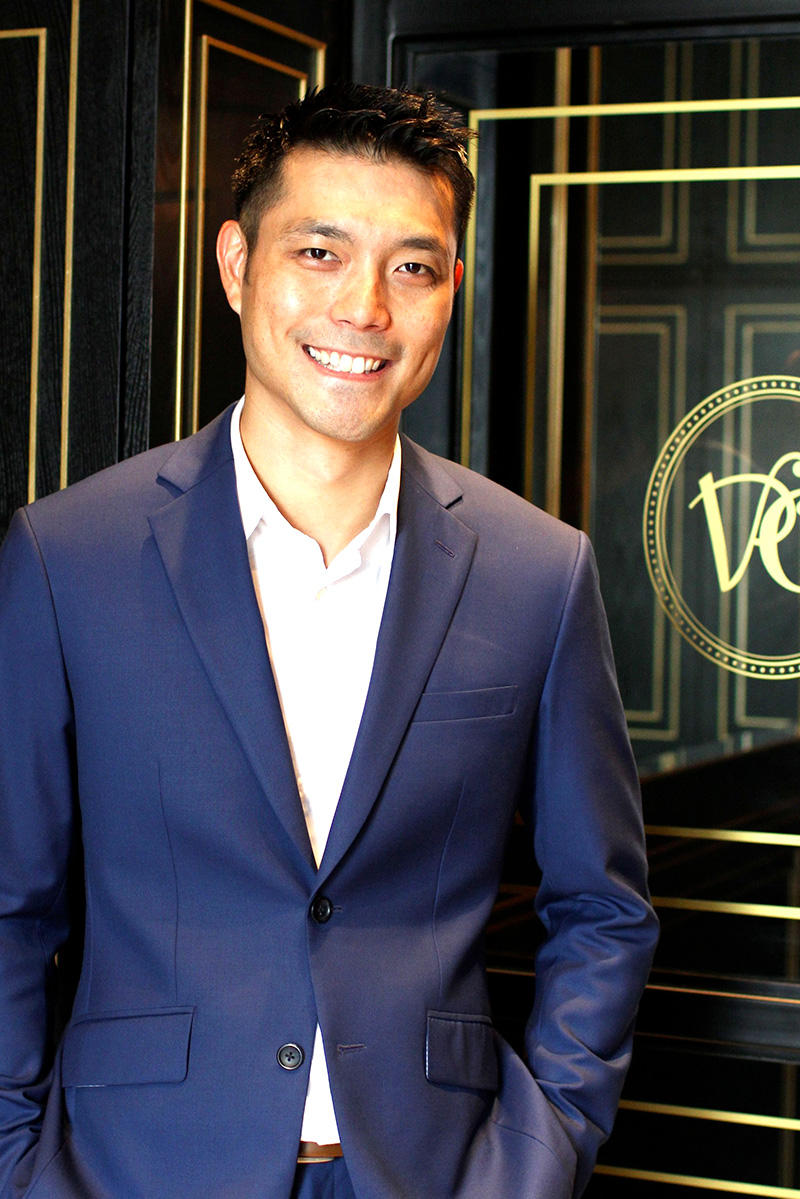 Yiming is responsible for the operations and the implementation of culinary concepts of all restaurants under the Violet Oon Singapore brand and works closely with Manoj, Violet and Su-Lyn in the development of the concepts. Yiming continues to ensure that Violet Oon Singapore attracts the best talent in the industry and provides the highest level of service such that every customer walks away from Violet Oon Singapore with a memorable and unforgettable experience.
Yiming began his career at KPMG as an accountant, before entering the management trainee programme at Asia Pacific Breweries Singapore (APB). There, he worked with the Heineken and Tiger Beer Regional Senior Management teams on operations, marketing, and business development.