Welcome to Violet Oon Singapore, the celebrated traditions and finest restaurants around a shared passion for Singapore food.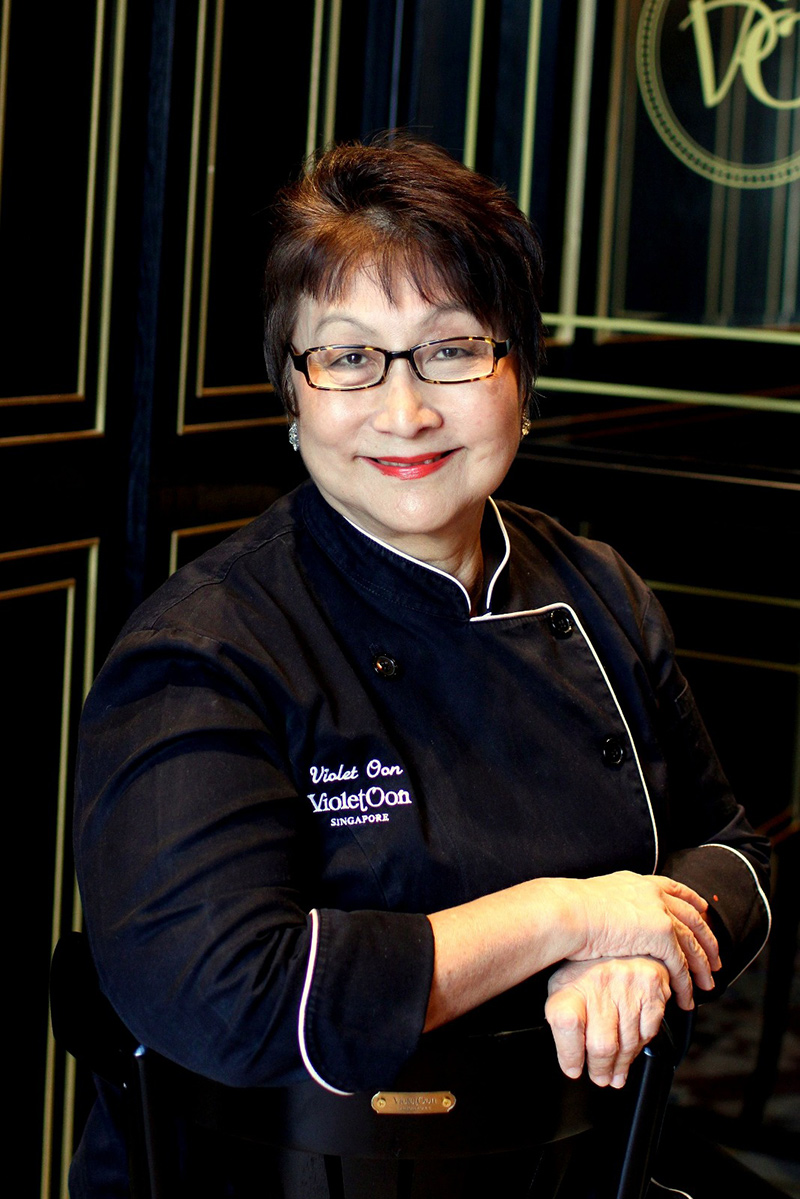 Born a Singapore Nyonya in 1949, Violet Oon is the grande dame of Singaporean cooking and is widely considered to be an authority on Asian cuisine, specializing in Nyonya food. Her reputation as a chef and food connoisseur spans the international arena and she often represents Singapore as a food ambassador abroad.
She learnt to cook in earnest at the age of 16, making great efforts to master the intricacies of Nyonya cooking from her aunts and grandaunts. She begged them to teach her how to cook the dishes of her Peranakan and Singapore heritage. Later on, as a professional food critic from the mid 1970's she met some of Singapore's culinary treasures, from local chefs to home cooks to hawkers - who welcomed her into their kitchens. She has spent over 50 years honing her culinary skills and craft in the cooking of Singapore.
Violet's career began in journalism in 1971 as an Arts and Music critic and then as the food critic for the Singapore newspaper the New Nation. She was later the food critic for the Sunday Times. Driven by her passion for sharing good food, Violet started her own culinary magazine called The Food Paper in 1987.
Violet has shared her culinary experiences and cooking skills with TV audiences in programmes filmed and aired by the BBC, CNN, The Food Network and also by Singapore's Channel 5 where she had her own cooking programme called What's Cooking in the 1980's.
In the 1990s, Violet opened her food outlet under her own name in Takashimaya as well as a restaurant in Bukit Pasoh Road, and launched her Curry Powder collection, which was exported to Japan. For the Raffles Hotel re-launch in 1991, Violet was commissioned by the Raffles Hotel to create her curry powders and a range of cookies for their shop.
Violet was appointed Chef de Mission, leading Singapore's team of chefs at the Worlds of Flavors Conference and Festival (2004, 2007 & 2009), held by the Culinary Institute of America. She has written three cookbooks: Peranakan Cooking, Violet Oon Cooks and A Singapore Family Cookbook and in 2016 was inducted into the Singapore Women's Hall of Fame by the Singapore Council of Women's Organisations.
Violet Oon Singapore,

The Restaurant Group
In 2012, Su Lyn Tay and Yiming Tay, both Violet's children, opened Violet Oon's Kitchen in Bukit Timah.
The restaurant garnered critical acclaim from its inception with the Sunday Times of Singapore on July 29 2012 featuring a preview of the restaurant review by Wong Ah Yoke with the headline "COMEBACK QUEEN - Super Ayam Buah Keluak at Violet Oon's new place". In the New York Times review on March 18 2013, Justin Bergman wrote, "Before Joel Robuchon, Guy Savoy and Daniel Boulud came to Singapore, the country had its own homegrown celebrity chef - Violet Oon, sometimes referred to as the Julia Child of Singapore."
In 2014, Violet and her family met Manoj M Murjani, Chairman of Group MMM. Manoj is a brand visionary who has created world renowned brands. With his passion and love around Singapore food, Manoj was creating his next Singapore F&B brand.
Their meeting was truly a meeting of minds - both the Violet Oon family and Manoj M Murjani sharing the same vision of bringing the best of Singaporean cuisine to the world and together they launched a dynamic partnership.
They rebranded and redesigned both the menu and interiors, relaunching as Violet Oon Singapore, with the vision to launch concepts around Singapore food and build Violet Oon globally.
A year later, in November 2015, they expanded to launch National Kitchen by Violet Oon at the National Gallery of Singapore. The restaurant opened to much critical acclaim at the end of 2015 and in 2016, won the award for Best New Restaurant (Asian) at the Peak G Awards.
In February 2017, they went on to open Violet Oon Satay Bar & Grill in the iconic Clarke Quay nightlife enclave.
Violet Oon Satay Bar & Grill was named one of two Best Restaurants in Singapore that opened in 2017 by Travel and Leisure, South East Asian edition, November 2017 issue. The Sunday Times of Singapore named the Pork Satay at the Violet Oon Satay Bar & Grill as one of the 3 best dishes of 2017 and the Daging Panggang Sambal Hijau at the Satay Bar & Grill was named as one of the best 8 steaks of Singapore by respected food critic Wong Ah Yoke.
Our Philosophy
Everything we put our hand to - from our in-restaurant dining experience to our catered events - reflects our passion for quality food, presented beautifully with sophisticated service.
We pride ourselves on our commitment to showcasing Singapore's culinary treasures and heritage from Nyonya, Chinese, Indian and Malay cuisines. Our dishes represent Singapore's history as the crossroads of the world through the varied ingredients and flavours employed.
We use recipes handed down through generations and are committed to following it to the letter - no shortcuts- so that you can always be assured of an excellent dining experience with family and friends.