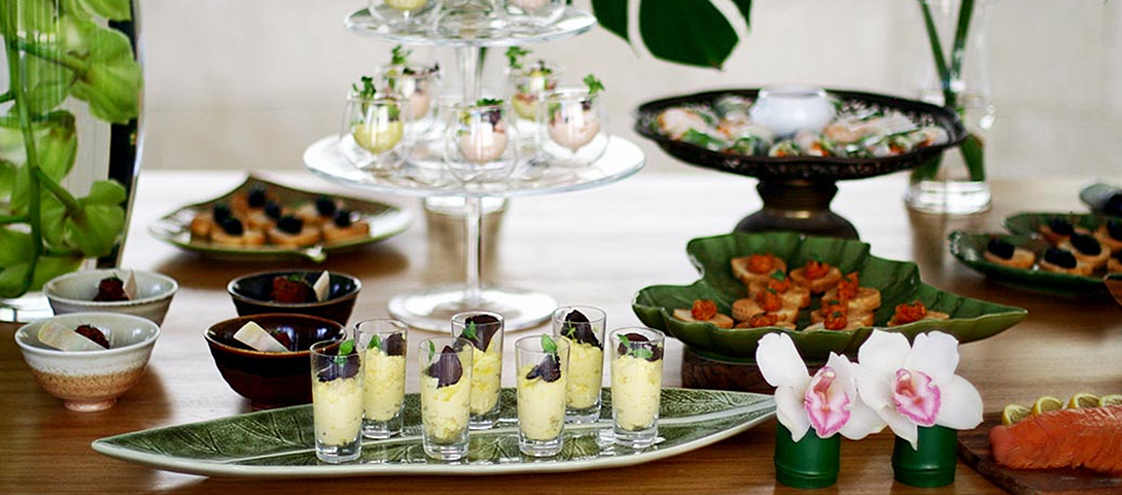 Corporate Events Catering Wedding Catering
Canepes and Cocktail
Corporate Events Catering
Wedding Catering
Canepes and Cocktail
Home Parties
Home Parties
"We take pride in offering quality food and flawless service that allows you and your guests to feel treasured and pampered."
– Violet Oon
• Birthday Parties • Baby & Bridal Showers • Festive Celebrations • Housewarming Gatherings • Engagement Parties • Wedding Anniversaries
We look after your party planning so you can spend more time celebrating!
Make home parties and baby shower catering a breeze with us. From buffets and high tea parties to canapés and cocktails, our team will work with you to create the perfect party in any setting of your choice. Whether you're gathering friends for a birthday celebration or festive holiday party, our mission at Violet Oon Singapore remains the same: we are fedicated to your celebration of life through good food, good company and great hospitality.
Enquire
Call us at +65 8533 1122 or email us at catering@violetoon.com to make a catering enquiry today!
Customer Reviews
"I would like to express my heartfelt gratitude to your creative and talented team for your vision in designing an extremely elegant and artful menu and table. I think I can speak safely for the entire group when I say that your passion for your work has elevated Singaporean cuisine to a new art form! Thank you for this incredibly special and memorable experience." — Mrs Katherine Kwun McClane
""Our family are long time fans of Violet Oon and were excited to have them cater for us – it was a fabulous party! The food was outstanding and it was the best Peranakan catering experience with service second to none. The team was so easy to work with and accommodating and charming." — Ingrid Chia
"My deepest gratitude for a simply wonderful afternoon. My guests were so impressed with your food and hospitality. Many thanks for your flawless execution today."
– Heather Hoffman, Home Party Client
"Thanks to all for making my party a success yesterday. Rave reviews on the food and the team took great care in the setup and presentation. Great experience all around. Cheers!"
– Joanne Yap, Home Party Client